Keene's Pointe Location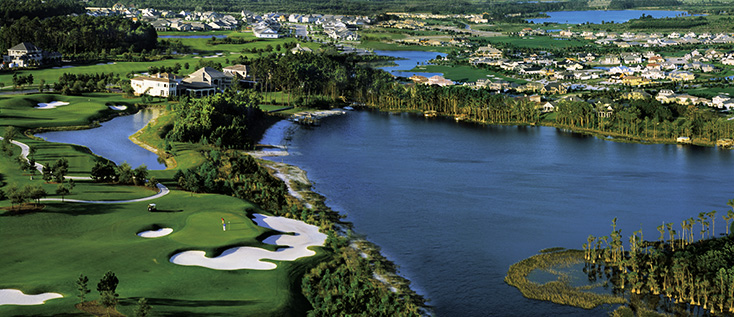 At a Glance
At Keene's Pointe, we have combined the classical architecture styles of the past with the flowing and open interiors of today. The Keene's Pointe community features 14 unique villages, set among the Butler Chain of Lakes and its golf course.

Over 400 acres just south of Keene's Pointe are designated as the Tibet-Butler Preserve, housing a bird sanctuary and several endangered species of animals and plants.

Windermere is located in Orange County, Florida, just a few miles south-west of Orlando with a population of just over 2,000. Walt Disney World and many other exciting attractions are only a few miles away.


History of Windermere
The area surrounding Keene's Pointe and Windermere is rich in history. For over 100 years, the mild climate and the beauty of the lakes have attracted settlers, farmers, tourists and homeowners.

After the end of the Seminole wars in 1858, the federal government - in an effort to bring settlers & farmers to the area, offered homesteaders 160 acres of free land in exchange for cultivating 5 acres and building a cabin. The resulting development brought more and more settlers, tourists, merchants and farmers to the area, first by dirt trails, then by steamboats and finally by railroads.

The city of Windermere was founded in 1887 and continues to grow as a highly desirable vacation destination and as a community of luxury living. Today's Windermere still shows its past in the historic Town Hall (built 1922-24), Cal Palmer's original office building (built 1911-12), the well-preserved Bumby house (built 1911) and the Armstrong-Beggs-Parramore house (built 1890 or earlier), which served as the town's first school in the same year.


Our Namesake
R.D. Keene (1885 – 1973) began working in the area's orange groves at the age of 20 and quickly progressed from laborer to buyer. He ultimately owned several groves and a packinghouse of his own. In 1932 he acquired the northern portion of the land now known as Keene's Pointe, which was used to develop orange groves. Then in the 1940's he acquired the southern portion. R.D. was known to be an innovator and over time improved orange growing techniques and developed the preparation and marketing of frozen orange juice. As a visionary, he formed a grower's association, later to become the Florida Citrus Mutual. However, after several devastating freezes, the Keene's family realized the need for change and rezoned Keene's Pointe land for developers.

Today, Windermere is a luxury community that has retained its small town charm. Many movie stars and professional athletes have made it their home. As you establish your home in Keene's Pointe, you will become part of the next chapter in its history and development.


Community & Activities
Residents of Windermere enjoy the town hall and surrounding area, which includes the Chase Memorial Library, basketball courts, a municipal office building and the Cal Palmer Memorial Building, named after one of its founding residents. The town hall is listed on the National Register of Historic Places. The town is literally set on a small strip of land amongst the Butler Chain of Lakes, offering residents glorious vistas and a retreat from the sometimes-tropical heat.
Shopping
Orlando's theme parks make sure that no one goes home empty-handed. There's plenty of gift shops selling everything from Mickey Mouse key chains to Alfred Hitchcock movies. But there's also an array of fine art galleries and stores with handicrafts and the likes. A selection of great Outlet malls can be found as well, such as:
Millennia Mall

World-class shopping and dining can be found at this upscale mall. Cartier, Bloomingdales, Lacoste, Neiman Marcus, Macy's are just a few of the over 140 shops and restaurants to be found.

Florida Mall

You won't believe the incredible variety of stores here, such as JC Penney's, Zales Jewelers, Pearl Vision Express, Saks Fifth Avenue, Thomas Kinkade Gallery, Officemax, Dillards and many more!

Winter Garden Village

Winter Garden Village is an open-air shopping center offering shopping and gathering opportunities to fit everyone's needs. From department stores to electronics to a health club and specialty retailers, along with the wide array of restaurants and eateries, visitors enjoy a variety of experiences here.

Orlando Premium Outlets

Find impressive savings at Ann Taylor, Barneys New York Outlet, Burberry, Coach, Diesel, Fendi, Gap Outlet, Giorgio Armani, Kenneth Cole, Lacoste, MaxMara, Nike, Polo Ralph Lauren, Salvatore Ferragamo, Theory, Tommy Hilfiger and more. With 110 stores to choose from, there's something for everyone.
Theme Parks
Enjoy the immense variety of theme parks and attractions nearby! There's something for every age, interest and activity level! There are too many to list, but some of the most popular attractions are:
Walt Disney World®

The Magic Kingdom is fun for all ages. From thrill-rides to parades to meeting all of your favorite Disney characters, Walt Disney World is definitely a must see attraction.

Universal Studios Florida®

At this real working film & TV studio, an incredible array of rides, shows, movie sets and attractions put you right in your favorite scenes from your favorite movies. It's the number one movie studio in the world!

Universal's Islands of Adventure®

Experience unexpected adventure and innovative thrills as you take an un-forgettable journey through the five islands - Seuss Landing™, The Lost Continent®, Jurassic Park®, Toon Lagoon® and Marvel Super Hero Island®!

SeaWorld® Orlando

Experience thrill-a-second rides one minute and count the teeth on a shark the next! Feed the dolphins, take in an incredible performance, and just try to stay dry when the world famous Shamu® comes a-splashing! SeaWorld® Orlando has a wide variety of rides, shows and attractions, including roller coasters, flight simulator rides, children's play areas, shows featuring pets, water-ski stunts, Shamu® and family, sea lion shows and many others. Or stroll through the tropical reef aquarium, turtle point, the dolphin nursery or manatee aquarium.